Personalized No Pull Dog Harness with Side Release Buckle
Tax included.
Shipping
calculated at checkout.
customers are viewing this product
Product details
No pulling, no choking, no coughing, Lepeto no-pull dog harness is the perfect harness to keep your dog safe and comfortable. Personalized No Pull Dog Harness with Side Release Buckle is designed specifically for pullers,which drastically improves the quality of dog walks.
BEST NO PULL DOG HARNESS
The No Pull Dog Harness with Side Release Buckle is designed to do one thing: take on and off in two seconds!  Just slip it over your dog's head and clip the buckle, you and your pup are ready to go. If your dogs pull, the personalized dog harnesses will turn them around and redirect them towards you.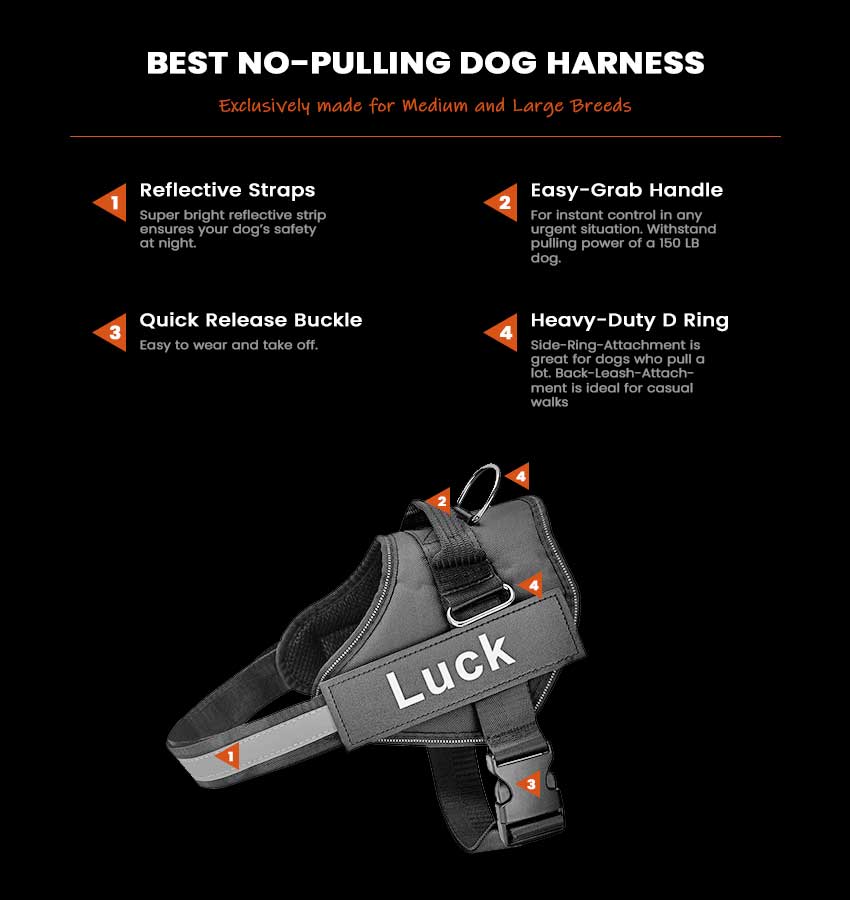 Quick Release Buckle - Easy to wear and take off. 
Reflective Straps - Super bright reflective strip ensures your dog's safety at night.
Fit All Size

 

- Available in six sizes for the perfect fit. If you are unsure of the size you need, please contact us and we will help ensure you get the correct size.

Easy-Grab Handle - For instant control in any urgent situation. Withstand the pulling power of a 150 LB dog. It helps pick up the elder dog when necessary.
Heavy-Duty D Ring - Side-Ring-Attachment is great for dogs who pull a lot. Back-Leash-Attachment is ideal for casual walks. 
CUSTOM DOG HARNESS
Personalize your dog harness with dog's name and phone number so you will never worry about losing your dog. If your dog is fully trained service dog or even a puppy in service dog training, we suggest your dog to wear the dog harness with name patch of "service dog" or "service dog in training".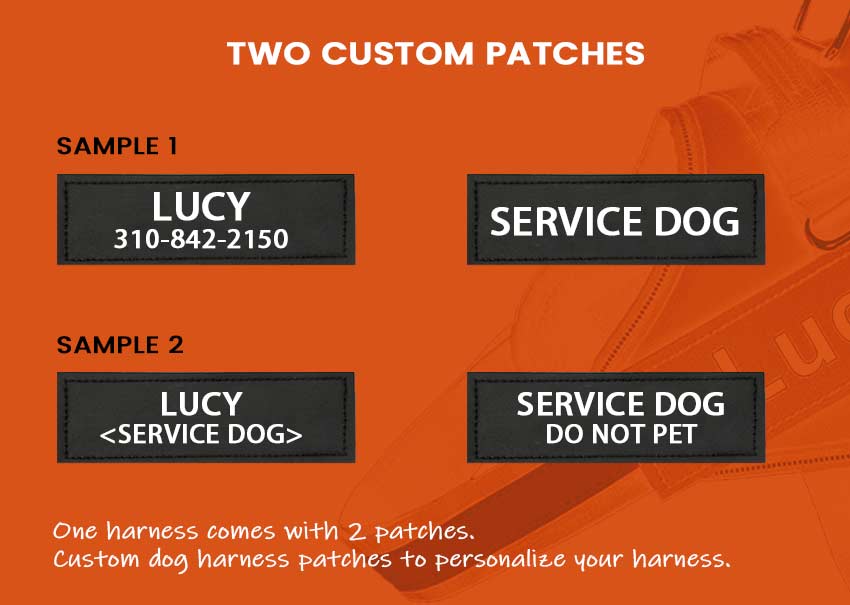 MOST COMFORTABLE DOG HARNESS
These personalized dog harnesses are made of ripstop material which are perfect for dogs who like to roll around the grass and dirt. 
Strong & Durable - H

igh-density nylon webbing, and double stitching makes this harness extremely durable and able to handle the strongest pullers. It's the perfect gift for 

large dogs and medium dogs such as Pit Bull, Labrador, German Shepherd, Bulky Bulldog, Poodle and etc.
Soft & Comfortable

 

- The soft padding vest reduces stress and temperature. It makes dogs cooler while hunting, running, or hiking.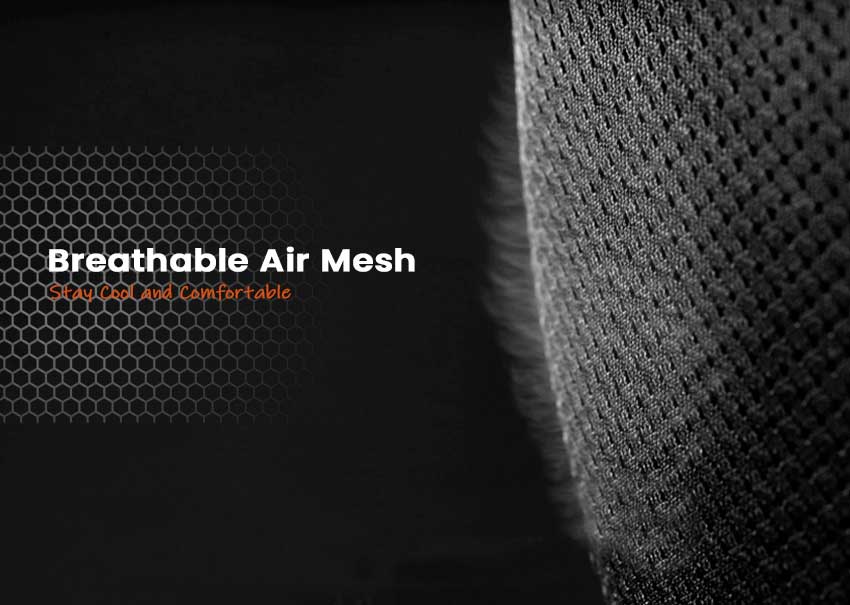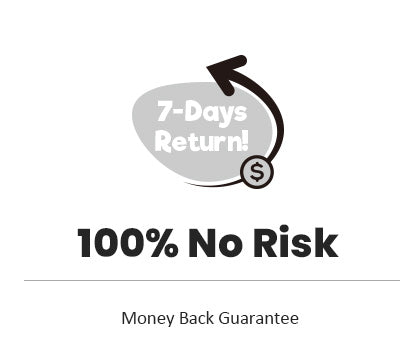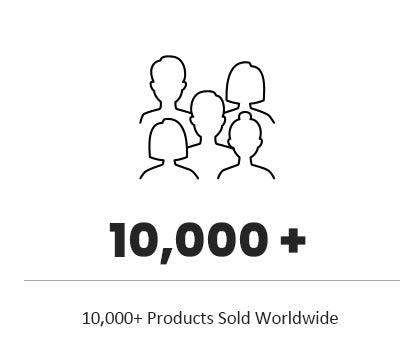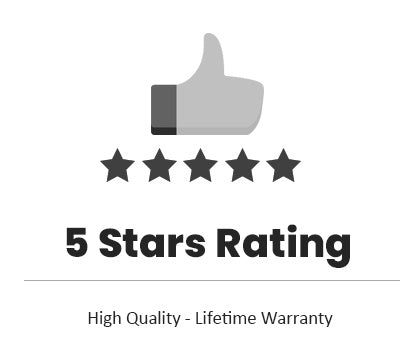 refer to the size guide above
Size

Material

XS: Chest Size: 15.0"-17.9"
S: Chest Size: 16.5"- 23.2"
M: Chest Size: 20.5"- 26.8"
L: Chest Size: 23.6"- 33.1"
XL: Chest Size: 28.3"- 37.8"
XXL: Chest Size: 33.1"- 45.3"
Breathable soft mesh fabric, Plastic buckle,
Stainless steel D-ring

Weight

Package

2 x Custom Patches, 1 x Harness
Returns Policy
You may return unused items within 30 days of delivery for a full refund. We'll also pay the return shipping costs if the return is a result of our error (you received an incorrect or defective item, etc.).
Your refund will be processed as soon as the product you have returned is inspected by our quality assurance team and it is confirmed that it fits within our returns policy. This quality check can take up to 1-2 days. Once the return has been approved, we will make a refund to your payment services provider (for example your credit card supplier). 
Shipping
Shipping charges for your order will be calculated and displayed at checkout. All orders to United States are free.
We currently ship to more than 25 countries. You can find out if your country is eligible from a drop-down menu listing all eligible countries before you begin the process of checking out. Note that there are restrictions on some products, and some products cannot be shipped to international destinations.
Do no-pull harnesses actually work?
The no pull harness is designed to limit a dog's pulling. Thousands of dog harnesses have been sold and most dog owners have verified that their dogs are in better control with less pulling. Here're some proven reviews:
"Bought this harness for my Large dogs - 70-pound husky mixes. Having the side clips for the leash makes it much easier to walk both dogs at once and does seem to make it more difficult for the dog to pull."
"I bought these harnesses for my 2 springer spaniel girls. These harnesses do the job. My girls aren't pulling me and our walks have gotten a lot more enjoyable."
How does a no-pull dog harness work?
(What is the difference between a no-pull harness and a regular harness?)
This is a side-clip harness that has a ring at the side of the dog's body area. Once you clip the leash to the side clip during dog walking, your dog has to stay by your side to keep moving forward. If the dog tries to pull, the harness gently moves the dog's shoulder and turns them around to face you. The dogs may feel a little confused, but they will learn pulling will make them turn around instead of moving toward what they are moving forward. However, no harness will teach your dog to stop pulling. No pull harness is just effective dog an training tool. Non-pulling dog walking could take days, even months to teach. With the help of the no-pulling dog harness, you could have more control over your dogs.
Are No Pull Dog Harnesses Safe?
All evidence shows that no-pulling harnesses with padding are more effective and safer for dog walking. Most harnesses are able to evenly distribute the pulling pressure to the dog's body rather than the neck or throat. It is not recommended to attach the leash to the collar during dog walking as it could cause choking.
Can I buy this no pull dog harness for my older dogs?
Yes. Any dog of different ages can benefit from using this harness. With breathable padded mesh, and lightweight fabric materials, your dog will feel comfortable and enjoy dog walking. What's more, you could help your dog hop into the car with the Easy-Grab Handle. It's the perfect no pull dog harness for senior dogs.
Can my service dog wear this dog harness?
Yes. When purchasing, please make sure to custom the patches with "service dog" texts. It will help identify your companion as a service animal.
Which dogs can use the No-Pull Harness?
Almost all dogs can benefit from using this no-pull harness.
Any dog breed: P

it Bulls, French Bulldog,Great

Dane

, German Shepherd, dachshunds, Labrador etc.

Any dogs of different sizes: Small Dogs, Medium Dogs, Large Dogs, or Overweight dogs.
Any dogs of different ages: Puppies, older dogs.
Dogs are new to walking.
What are the benefits of this no pull dog harness?
NO PULL, CHOKE-FREE, COSY FIT
Easy for no-pulling dog walking. A No pull dog harness is an effective dog training tool that will help your dog learn how to walk with you.
To prevent choking, reduce strain and the risk of getting hurt.
The easy on/off design saves you the hassle of adjustment each time.